Adrianna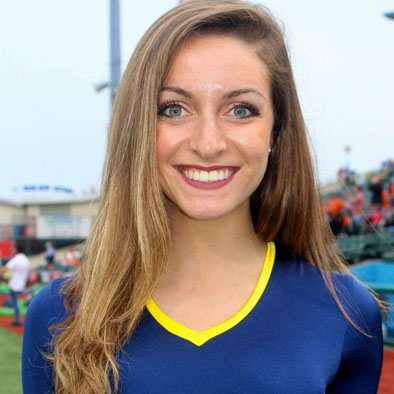 Hometown: Long Island, NY
Nickname: Adri-baby
Occupation: Speech-Language Pathologist
Tenure: 4th Year Veteran

Favorite Things
Color: Blue
Movie: "Bridesmaids"
TV Show: "The Office"
Food: Anything Italian or Mexican
Snack: Oreos
Place to travel: Disney World!
Quote: "What's for you will not pass you."

Fun Facts
The best thing about being a Cosmos Girl . . . besides being able to share my love of dance on the field is interacting with fans young and old. During my 4 years as a Cosmos Girl I have formed so many relationships with various fans. When they come to the games it feels like you're surrounded by friends.

Three words to describe my personality are . . .
Passionate. Silly. Outgoing

If I could have lunch with anyone dead or alive I would pick . . . the Spice Girls because I have been such a super fan since I was a little girl. My sweet 16 was even themed "Spice Girls", and when I went to their reunion concert in 2008, I cried like a baby! I love them so much!

If I could have any super power I would want . . . to be able to breathe underwater. I LOVE mermaids, and it would be amazing to be able to swim like them underwater.

If you hand me a microphone, my go to karaoke song would be . . ."Wannabe" by the Spice Girls…of course!

My celebrity look alike is . . .
I have heard Deborah Messing, but I don't see it.

When I'm not dancing at a Cosmos Game I'm . . . helping young children learn to communicate more effectively, teaching dance, planning mini getaways, laughing with friends, trying new restaurants on Long Island with an ocean view, and spending time with my boyfriend and family.