Aly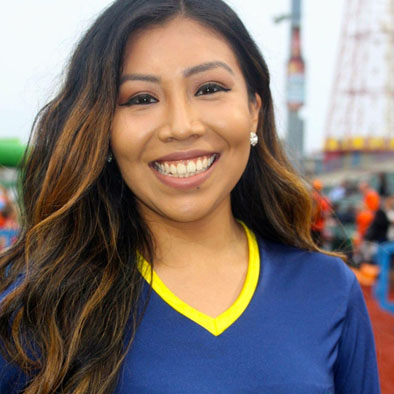 Hometown: Brooklyn, NY
Nickname: Aly
Occupation: Student in College Of Staten Island and Dance Teacher
Tenure: Rookie

Favorite Things
Color: Red
Movie: "How The Grinch Stole Christmas" (All year round!)
TV Show: "Ghost Hunters"
Food: I love food!!!! My favorite would be Tacos!!!
Snack: Cucumbers with lime, salt and of course lots of Tajin chili powder!
Place to travel: Mexico! It's great to go and visit my family down there.
Quote: "Everything happens for a reason, whether it's good or bad. There's always a significant lesson."

Fun Facts
The best thing about being a Cosmos Girl is . . . being able to perform for all of the fans and making their experience much more fun! But most importantly is having the eyes of the younger generation looking up to us and admiring what we do. It's the best feeling and greatest experience of being a Cosmos Girl.

Three words to describe my personality are . . .
Bubbly. Energetic. Sassy.

If I could have lunch with anyone dead or alive I would pick . . . Bruno Mars! I wouldn't mind having lunch while having Bruno Mars singing a few songs at the table! Let's face it he is definitely a catch!! I would probably be drooling I'll forget I'm there to eat lunch!

If I could have any super power I would want to . . . teleport!!! I'm not really a person who keeps track of time as good; therefore this would be the perfect super power for me. I can take me time getting ready and won't stress being late. Also being able to juggle school and a few jobs will be much more easy with this awesome super power!

If you hand me a microphone, my go to karaoke song would be . . . I'm not great with lyrics but I'd say "No One" by Alicia Keys.

My celebrity look alike is . . . Jhene Aiko

When I'm not dancing at a Cosmos Game I'm . . . back at MCU Park supporting the Brooklyn Cyclones. I basically live at MCU Park all I need is a room there! If am not there I am at the dance studio where I teach 6-7 days of the week. Those are my two homes!