Amanda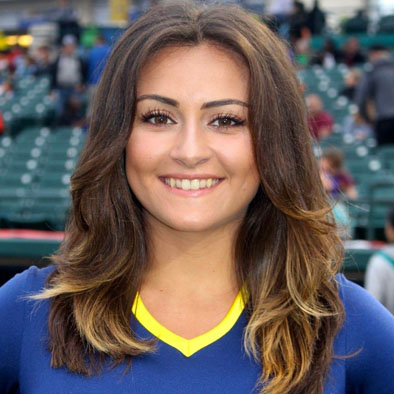 Hometown: Hicksville, NY
Nickname: Andi, Mands, and Mandy
Occupation: Student
Tenure: Rookie
Favorite Things
Color: Blue
Movie: "The Proposal"
TV Show: "FRIENDS" is 100% my favorite TV show.
Food: I live off grilled cheese with avocados.
Snack: I'm not sure if you would consider ice cream as a snack, but if it is I can't go a day without it.
Place to travel: It's hard for me to pick one specific place, but traveling to Europe has always been a dream of mine.
Quote: "We've gone beautifully mad in a beautifully mad world."
Fun Facts
The best thing about being a Cosmos Girl is . . . all the fans that we meet and get to perform in front of. The fans really help make this experience everything that it is.
Three words to describe my personality are . . .
Outgoing. Comedian. Adventurous.

If I could have lunch with anyone dead or alive I would pick . . . Michael Jackson because he is a dance legend and I would love to learn from his experiences.

If I could have any super power I would want to . . . be invisible.

If you hand me a microphone, my go to karaoke song would be . . .
"At Last" by Etta James.

My celebrity look alike is . . . Some people say I have similar characteristics to Ariana Grande.

When I'm not dancing at a Cosmos Game I'm . . . teaching dance, sleeping, and binge watching, or reading a book.