Jillian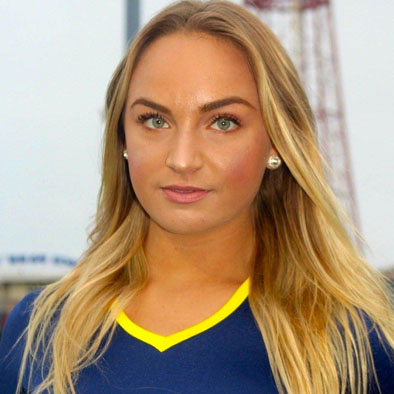 Hometown: Huntington Station, NY
Nickname: Jill, Jill LO, GiGi, Jane
Occupation: Choreographer
Tenure: Captain, 5th Year Veteran
Favorite Things
Color: Black
Movie: "Remember the Titans"
TV Show: "Power"
Food: I don't discriminate, but will provide a top three- Gnocchi, Sushi, and Mexican Tamales (in no particular order, but definitely partial to the tamales).
Snack: Chips and Guac
Place to travel: Greece. I have never been, but it will one day be my favorite!
Quote: "The woman who does not require validation from anyone is the most feared individual on the planet."
Fun Facts
The best thing about being a Cosmos Girl is . . . being able to put on that uniform with pride in knowing that we are ambassadors for such a great organization, which invests so much in the fans! We owe it all to you; we love you, Cosmos Country!

Three words to describe my personality are . . .
Loyal. Independent. Ambitious.

If I could have lunch with anyone dead or alive I would pick . . . Joan Rivers because I just feel like we would definitely be best friends AND Kevin Hart because life is better when you're laughing!

If I could have any super power I would want to . . . Teleport.

If you hand me a microphone, my go to karaoke song would be . . .This is honestly a no-brainer for me: "Jessie's Girl," Rick Springfield.

My celebrity look alike is . . . Britney Spears, Brooke Hogan, and sometimes Candice Swanepoel when I'm having a really good day!

When I'm not dancing at a Cosmos Game I'm . . . either choreographing, teaching (dance), working out, writing, and if it's Summer time - at the beach!