Lucille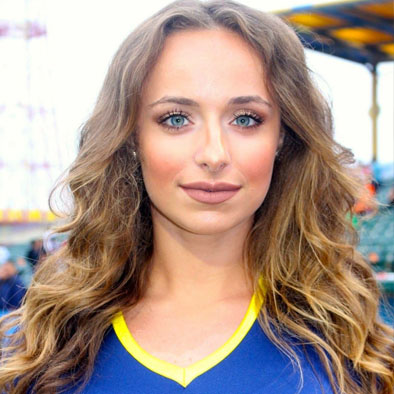 Hometown: Brooklyn, NY
Nickname: Lu, Lucy, Lucia, Lulu Belle
Occupation: College student, Childhood Education Major specializing in math
Tenure: (Rookie, 2nd Year Veteran, etc.) - Rookie
Favorite Things
Color: Purple
Movie: "Pearl Harbor"
TV Show: "Law & Order: SVU"
Food: Pizza
Snack: Milano Cookies
Place to travel: Disney World
Quote: "Don't cry because it's over, smile because it happened." – Dr. Seuss
Fun Facts
The best thing about being a Cosmos Girl is . . . entertaining our dedicated fans at MCU Park! I love the great energy the fans bring to the stadium!

Three words to describe my personality are . . .
Upbeat. Caring. Optimistic .

If I could have lunch with anyone dead or alive I would pick . . . Wendy Williams because we can have her "hot topic" segment during lunch, which is always filled with the latest gossip and she is always keeping it real!

If I could have any super power I would want to . . . Fly!

If you hand me a microphone, my go to karaoke song would be . . . "Girls Just Want to Have Fun."

My celebrity look alike is . . . as a child, people always said I looked like the Olsen twins, or they would put it as "Michelle from Full House." Now, people say I currently look like Giada De Laurentiis, Scarlett Johansson, and I also get Barbie.

When I'm not dancing at a Cosmos Game I'm . . . attending classes at Brooklyn College, performing as a backup dancer for many artists and teaching dance.