Marissa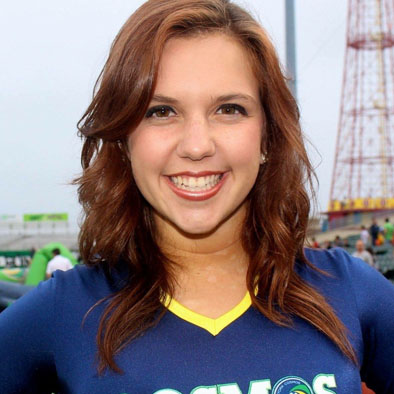 Hometown: Smithtown, NY
Nickname: Hmm, don't really have one.
Occupation: Elementary School Teacher
Tenure: 4th Year Veteran
Favorite Things
Color: Pink
Movie: "Miss Congeniality"
TV Show: "Family Feud"
Food: My mom's and grandma's Italian cooking, seriously, what could be better?!
Snack: Cheese sticks and carrots
Place to travel: Sicily, Italy. My extended family is there and I love visiting the gorgeous country and being with my family.
Quote: "She believed she could, so she did."
Fun Facts
The best thing about being a Cosmos Girl is . . . doing what I love with an amazing group of ladies. Being a part of Cosmos Country has brought me so many great memories and experiences. The fans bring so much excitement to the games. They create such an amazing energy to the games!

Three words to describe my personality are . . .
Energetic. Spunky. Positive.

If I could have lunch with anyone dead or alive I would pick . . . Ellen DeGeneres because not only is she funny and outgoing, she is kind and selfless; giving to those who truly deserve it. She is a great female role model.

If I could have any super power I would want to . . . time travel! I would love to go back in time and meet all of my ancestors and I would also love to travel into the future to see all of the new technology that has been created.

If you hand me a microphone, my go to karaoke song would be . . . definitely "House Party" by Sam Hunt. I am a huge country music fan and I absolutely love Sam Hunt! Who wouldn't love his dreamy eyes and a man in a cowboy hat?!

My celebrity look alike is . . . Sarah Hyland from Modern Family.

When I'm not dancing at a Cosmos Game I'm . . . at the beach, teaching in a classroom, reading a good book, spending time with friends!