Examining the Dutch legend's relationship with the club. (Photo: Don Pollard)
Dr. David Kilpatrick | Mar 25, 2016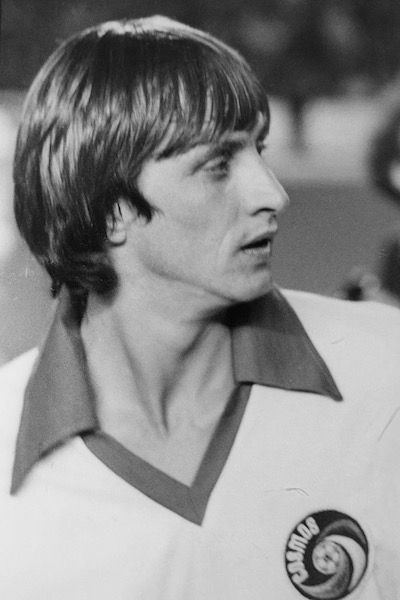 The passing of Johan Cruyff has stunned the soccer world. Those that love the Beautiful Game mourn the loss of one of its greatest advocates and exemplars. A player and manager whose devotion to an aesthetic ideal leaves a lasting legacy, Cruyff's place in the sport's pantheon is ensured – he will be revered as long as the game is played, forever celebrated as the epitome and uncompromising prophet of totaalvoetbal. The Dutch superstar will always be most associated with the Oranje and the two clubs he played for and managed, Ajax and Barcelona, but he also left a lasting impression on the Cosmos, despite only playing twice for the club.
Having trained briefly with the Cosmos in the summer of 1977, rumors were rife that the three-time Ballon d'Or winner would join the star-studded New Yorkers after he retired from Barcelona at the end of the 1977-78 La Liga season. After months of negotiations, by late July of 1978, Cruyff agreed to make two appearances in postseason international friendlies and guaranteed if he were to ever play soccer again beyond those two matches, he would only play for the Cosmos.
Cruyff's Cosmos debut was made against a World All-Stars side on Aug. 30 (three days after the club won its third NASL title in Soccer Bowl '78), and his performance didn't disappoint the crowd of 50,757 at Giants Stadium or the millions watching worldwide. His assist that night was precisely the kind of magic everyone expected from him. Between two defenders marking him on a corner kick, Cruyff plucked the ball midair waist-high with his right foot, then flicked it over his back before spinning away to create space. Drawing a third defender, Cruyff fooled his markers with a cheeky right-footed backheel, slotting the ball back for the onrushing Seninho, who powered home the Cosmos' second goal in the 2-2 draw.
Citing personal reasons, Cruyff abruptly left New York and went back to Europe the next day, the club announcing that the Brazilian, Rivelino, would take his spot that Labor Day in a friendly against Atlético Madrid.
Cruyff caught back up with the Cosmos a month later in London, for the sixth game of their postseason tour of Europe, against Chelsea in front of a crowd of 39,659 at Stamford Bridge on Sept. 26. Cruyff proved his was still in peak form and the Cosmos dazzled the crowd with their attacking display. Despite several scoring chances, Dennis Tueart's 38th-minute goal was the only Cosmos goal. It seemed enough for a road victory until New York conceded an 89th-minute goal by Ray Wilkins to draw 1-1. Having played twice for the Cosmos, Cruyff had fulfilled his contractual obligation to the club, but talks continued to bring him fully out of retirement. He had proven to the world he wasn't ready to retire and that his artistry worked well with the Cosmos.
Like the protracted pursuit of Pelé, New York persisted in negotiations with Cruyff through the spring of 1979. The season already well underway, the announcement he would join the Los Angeles Aztecs was a shock move, done with the Cosmos' consent. With a roster stocked with galácticos, New York enjoyed an embarrassment of riches. For the good of the league, the Cosmos released Cruyff from his exclusivity agreement from the year prior, compensation of $600,000 from the Aztecs softening and sweetening the deal for New York.
Cruyff earned the NASL Player of the Year award for 1979, but he was transferred to the Washington Diplomats, where he spent 1980 and part of the 1981 season, before returning to Europe. In his three seasons in the NASL, Cruyff only played against the Cosmos three times. The Aztecs lost 3-1 in Los Angeles to the Cosmos on Aug. 1, 1979. His Dips lost in a shootout at RFK on June 1, 1980, but in his only appearance against the Cosmos at Giants Stadium, Cruyff's team won in a shootout on Aug. 17, 1980 in front of a crowd of 55,764. Marked by Andranik Eskandarian in those three games, Cruyff never scored against New York.
Completing his playing career with Feyenoord in 1984, Cruyff assumed a managerial role with a return to Ajax in 1985. Managing there until 1988, he took over at Barcelona until 1996, their current style of play testimony to the Dutch master's technical and tactical legacy.
Along with Pelé and Franz Beckenbauer, Cruyff will always be ranked among the very best of football's greatest generation. It is telling that when compiling his own list of the world's greatest footballers of all-time for his 2013 book, Fútbol, Mi filosofía, Cruyff chose three former Cosmos for his top XI: Carlos Alberto, Franz Beckenbauer and Pelé. Even for those who only know his name in association with his famous turn, he represents an artistic approach to the game. For those of us blessed to have witnessed his genius with our own eyes, we're left with tears of gratitude. He may only have played twice for the club, but Johan Cruyff will always be cherished as a member of the Cosmos family. Our condolences to his immediate family.
---

---
ENTER TO WIN A FALL 2017 SUITE PACKAGE!
BROUGHT TO YOU BY THE NEW YORK COSMOS
Four (4) Tickets to a MCU Park Suite for our match against North Carolina FC on September 23
2017 Home Jersey
Limited Edition/ Welcome to Coney Island Scarf
Official New York Cosmos ball