Nicole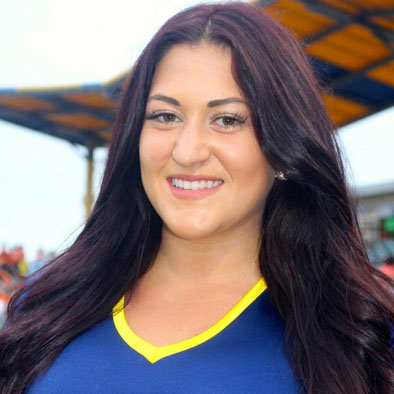 Hometown: Brooklyn, NY
Nickname: Nikki, Nic
Occupation: Elementary Special Education Teacher
Tenure: Rookie
Favorite Things
Color: Purple, Black and Turquoise
Movie: "Good Will Hunting"
TV Show: "Shameless" and "Entourage"
Food: BBQ Ribs, any kind of Pizza, and Sushi
Snack: Apples and Peanut Butter & Chocolate Covered Pretzels
Place to travel: Any tropical island
Quote: "No time's forever just the rest of your life."
Fun Facts
The best thing about being a Cosmos Girl is . . . being able to still do what I love and perform and work with such a talented group of women and perform in front of the amazing Cosmos Fans.

Three words to describe my personality are . . .
Passionate. Creative. Caring.

If I could have lunch with anyone dead or alive I would pick . . .
This is a tough question but I think I would pick Amy Winehouse because I think she is insanely talented and we would definitely have a really fun time. I could also pick any member of the Beatles (dead or alive) because I love their music and I would love to have a conversation with any one of them.

If I could have any super power, I would want to . . . time travel or the ability to manipulate time because there are just not enough hours in the day. I would love to be able to travel back to any time in history or in my life and be able to experience things I wasn't able to.

If you hand me a microphone, my go to karaoke song would be . . . definitely "Pour Some Sugar On Me," "Rich Girl" or any 50 Cent song.

My celebrity look alike is . . . I have been told I look like Kylie Jenner on several occasions, I don't really see it but it must be something.

When I'm not dancing at a Cosmos Game I'm . . . at work teaching my elementary school class, lesson planning (it consumes my life), at grad school, the gym, or relaxing spending time with family and friends.