Podcasts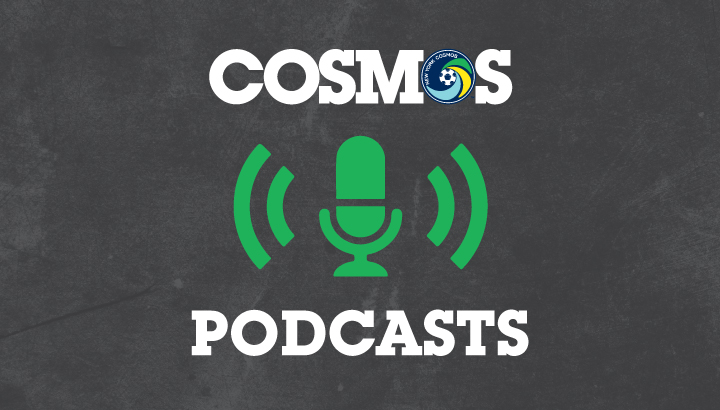 Stay up to date with the best Cosmos talk on the Internet.
This Is Cosmos Country began life as a New York Cosmos supporters news site, developed into a podcast and has now returned as a site and source of Cosmos news. Dedicated to providing in-depth coverage and opinion on the club, TICC also looks at its competition in the NASL.
The podcast is hosted by Nick and Luis with additional support from a talented team of individuals on the show and site, including Leo Glickman, Anthoney "Prez" Stephens, Eytan Calderon, Steve Hamlin and Mike Schemmel.
VISIT THISISCOSMOSCOUNTRY.COM FOR MORE
November 18, 2016 | Listen
We're back talking the taking of yet another NASL title as the Cosmos beat Indy in penalties in the NASL Championship Final.
We answer your questions, discuss your answers to our two questions this week, and diversify by chatting a little USMNT.
We also talk about our potential TICC-Mas hangout this offseason. Give a listen and get some details if you'd like to come.
JP Dellacamera and Shep Messing talk about the latest going on in the world of soccer, focusing on the American game.
VISIT ONEWORLDSPORTS.COM FOR MORE
November 15, 2016 | Listen
JP & Shep discuss the USMNT's loss to Mexico and preview Tuesday's match against Costa Rica. Then they touch on the New York Cosmos winning another NASL championship and their thoughts on having a golden goal.
The First Team Podcast covers the hottest news in Cosmos Country and the NASL.
VISIT FIRSTTEAMPOD.COM FOR MORE
November 14, 2016 | Listen
John reviews The Championship Final.
Twitter: @1teampod
Into the Cosmos is a weekly soccer podcast dedicated to the New York Cosmos on the Sports Palooza Radio Network.
If you're a New York Cosmos fan, stop by on Wednesday afternoons to keep up with your favorite team! Co-hosts Ej Garr and Frank Dell'Apa bring you interviews, updates and so much more.
November 2, 2016 | Listen
This week on #IntotheCosmos, the postseason has arrived and it is time to chase down a championship!
The New York Cosmos enter the NASL postseason as the No. 1 seed, and will face Rayo OKC at Shuart Stadium this Saturday at 7 p.m. ET. After a long regular season, the Cosmos look to earn their eighth NASL title and third in the last four years.
Your hosts Ej Garr and Frank Dell'Apa welcome Cosmos midfielder Adam Moffat to the show. Adam discusses his time in MLS and how overcoming injuries has made him stronger on the pitch today.
We'll also talk about the announcement that the potential Championship Final could be held at Belson Stadium, should the Cosmos advance. So tune in, sit back and enjoy the show, and make sure you arrive to Shuart Stadium on Saturday early for the tailgate party!