Robyn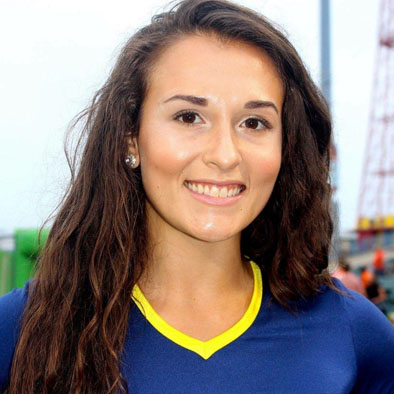 Hometown: Baldwin, NY
Nickname: Don't really have one
Occupation: Full Time Student
Tenure: 2nd Year Veteran
Favorite Things
Color: Warm Colors: Red, Orange, Yellow :)
Movie: "Monsters Inc."
TV Show: Not a fan of the tube
Food: Greek/ Mediterranean food ALL THE WAY
Snack: Peanut Butter
Place to travel: The Caribbean
Quote: "You are what you repeatedly do."
Fun Facts
The best thing about being a Cosmos Girl is . . . interacting with the fans, especially the families with children who come to our Cosmos Girls clinics. Seeing their faces light up at the games really makes me proud to wear the uniform. The young girls seem to look up to us a lot.

Three words to describe my personality are . . .
Ambitious. Organized. Witty.

If I could have lunch with anyone dead or alive I would pick . . . Fitness Professional Hannah Eden. She is a beast whom I totally idolize! Plus, we'd both prefer clean eating.

If I could have any super power I would want to . . .
That's a no-brainer. I would fly! Then I could also jump the highest.

If you hand me a microphone, my go to karaoke song would be . . .
"Anything" by the Dixie Chicks.

My celebrity look alike is . . .
I've heard Ellen Page in Juno. Not sure I agree.

When I'm not dancing at a Cosmos Game I'm . . .
In class, the gym, or the kitchen, hanging with family and close friends, at the beach, or drinking coffee.