Samantha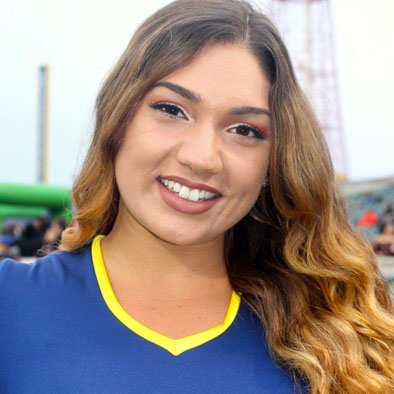 Hometown: Brooklyn, NY
Nickname: Sam Tags, Sam T
Occupation: Student at Brooklyn College, Early Childhood Education major, Dance Teacher
Tenure: Rookie
Favorite Things
Color: Purple
Movie: "Burlesque"
TV Show: "Friends"
Food: Chicken Parmesan
Snack: Dark Chocolate
Place to travel: Disney World
Quote: "Dance like no one is watching."
Fun Facts
The best thing about being a Cosmos Girl is . . . getting to continue doing what I love, dancing and sharing it with the best fans ever, Cosmos Country!

Three words to describe my personality are . . .
Passionate. Sweet. Cheerful.

If I could have lunch with anyone dead or alive I would pick . . . Britney Spears because I have been a die-hard fan since I was born. I would tell her that I went to see her in concert for the first time when I was 3 years old and that I know every single one of her songs!

If I could have any super power I would want to . . . have psychic powers and see the future.

If you hand me a microphone, my go to karaoke song would be . . . "Show Me Love" by Robin S.

My celebrity look alike is . . . Jessica Alba

When I'm not dancing at a Cosmos Game I'm . . . either teaching dance, working at an after school/ day camp where I am a counselor for 5 and 6 year olds as well as teach them dance, and also cheering on the Brooklyn Cyclones at our very own stadium, MCU Park!!