Allison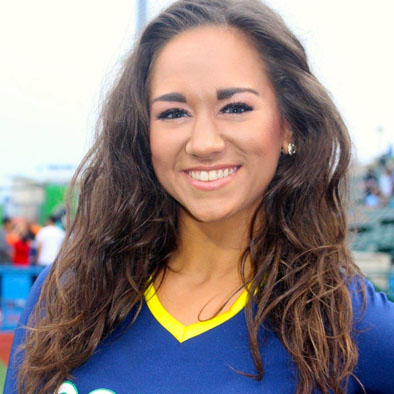 Hometown: Easton, PA
Nickname: Ally, Al, Sproaty
Occupation: Administrative Assistant on Wall Street
Tenure: Rookie

Favorite Things
Color: I go through phases of light and dark. It's between Lavender/ Rose Gold & Black of course is my staple. J
Movie: "Dirty Dancing", "A League of Their Own," and all musicals!
TV Show: "The Office"
Food: Greek/Mediterranean but on a cheat day it's a close call between Mac & Cheese/ Grilled Cheese
Snack: Carrots & celery with hummus
Place to travel: Aruba
Quote: "When words fail music speaks."

Fun Facts
The best thing about being a Cosmos Girl is . . . the opportunity to work with an amazing group of diverse women on performances for our loyal fans, Cosmos Country!

Three words to describe my personality are . . .
Passionate. Creative. Devoted.

If I could have lunch with anyone dead or alive I would pick . . . John Stamos, hands down. Not only is he classically gorgeous with that dark hair (my Full House/ Fuller House fans, "Have Mercy!") he is also a renowned actor, musician, philanthropist and world traveler. With our love of music and some good Greek food, preferably by the sea, the conversations would be endless.

If I could have any super power I would want . . . the ability to time travel to both the future and past like in the movie trilogy "Back to the Future." I'm an old soul and often feel I was supposed to be born in a past era.

If you hand me a microphone, my go to karaoke song would be . . . Whitney Houston's "I Wanna Dance with Somebody." I've sung this classic in various venues while studying abroad in Italy and it's always a crowd pleaser.

My celebrity look alike is . . . I've gotten actress Jennifer Love Hewitt on numerous occasions. The brown hair, almond shaped eyes and side profile are what's commonly referenced.

When I'm not dancing at a Cosmos Game I'm . . . listening to music (can't get through the day without specific playlists) drinking coffee (lots of it), enjoying quality time with friends and family including my 4-year-old niece, working on Wall Street and at Equinox Fitness, in dance class & yoga to restore my balance and peace of mind.