Cosmos head coach Giovanni Savarase, Cosmos B head coach Alecko Eskandarian, captain Carlos Mendes and striker Raúl were all at Brooklyn Bridge Park's Pier 5 Tuesday to meet with Brooklyn Borough President Eric Adams and Brooklyn Italians Vice President Joe Barone.
By Jason Lind
CLICK HERE FOR SINGLE GAME TICKETS TO THE COSMOS' BROOKLYN MATCH
The New York Cosmos will play their first ever soccer match in Brooklyn this Saturday, May 2 at 7 p.m. ET against Ottawa Fury FC at Coney Island's MCU Park. To celebrate the occasion Brooklyn Borough President Eric Adams welcomed the club Tuesday during a press conference at Pier 5 of Brooklyn Bridge Park.
"This is great for Brooklyn - to use MCU Park to play the game of soccer for the first time," Adams told the media. "Soccer has grown so much in Brooklyn. On any given Saturday you can go to any neighborhood park and see our young people engaging in the sport.
"There's an international appeal in the borough of Brooklyn. Forty-seven percent of Brooklynites speak a language other than English at home. No other sport personifies this diversity and energy more than soccer."
Following the Cosmos' matchup with Fury FC, reserve side New York Cosmos B will play its inaugural match in the National Premier Soccer League against the Brooklyn Italians. MCU Park will not only play host to its first soccer match on Saturday, but also its first soccer doubleheader.
"Soccer has grown tremendously in Brooklyn since I've been here," said Brooklyn Italians Vice President Joe Barone, another featured speaker at the press conference. "It's been a privilege to see it happen."
"I grew up and played soccer not too far from here," said Cosmos head coach Giovanni Savarese, a graduate of Long Island University and former striker for the New York Greek Americans, Long Island Rough Riders and New York/New Jersey MetroStars. "We're very excited to be in Brooklyn and play at MCU Park."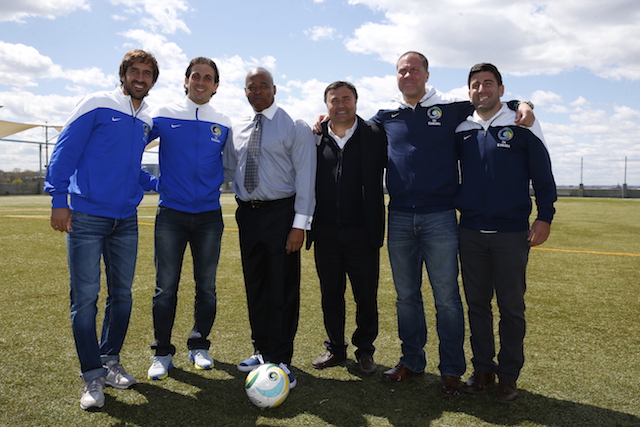 The Cosmos first team leads the North American Soccer League standings through four games. This Saturday's fixture marks the halfway point of their 10-game Spring Season. They have won twice and drawn twice in 2015 NASL action.
New York's marquee acquisition of the offseason, longtime Real Madrid and Spanish national team striker Raúl, will also be making his Brooklyn debut. He's following in the footsteps of fellow Real Madrid legends Ferenc Puskás and Alfredo Di Stéfano, who played a pair of matches at Brooklyn's Ebbets Field with Los Blancos in July 1959.
"I'm enjoying my time here in New York with the Cosmos," said Raúl. "Hopefully we continue to have success on the field in Brooklyn and later on, so we can win a championship."
---