Former European Champion will retire when 2015 NASL season concludes.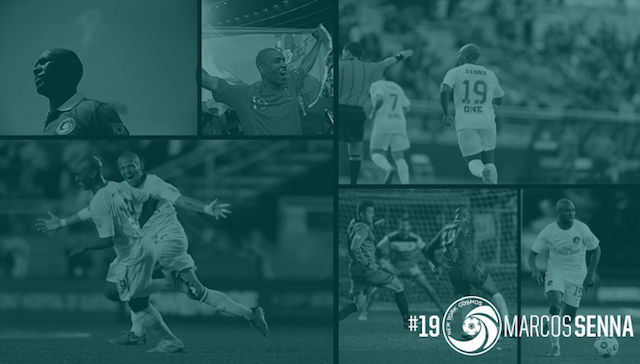 By Cosmos News Service - Para español clic aqui
NEW YORK (June 10, 2015) – The New York Cosmos announced today that former Spain international Marcos Senna plans to retire once the NASL Fall Season concludes in November. On his retirement, Senna will return to Spain but remain part of the Cosmos organization while working in an international development role.
"I've been blessed to have had the career I've had and fortunate to play with some truly exceptional players and teams," Senna said. "Right now, my body feels great and I want to make sure that I'm able to retire while I'm playing well and on my own terms. The move to New York and joining the Cosmos has been fantastic for my family and we've experienced some truly unforgettable memories here in the U.S."
During his time with the Cosmos, the 38-year-old Senna helped bring the Cosmos the 2013 NASL championship during the club's first professional season in almost 30 years. Over the past two years, Senna has made 43 total appearances for the Cosmos, registering 11 goals and 3 assists. He also scored the winning goal in the 2013 NASL championship game.
"From the day that he signed with us, Marcos has been a tremendous presence," head coach Giovanni Savarese said. "His leadership has helped the team and he's played at an incredibly high level for us. We've been honored to have Marcos with us the past two years and he will be a part of the Cosmos family forever."
Senna began his career in his native Brazil, but prior to coming to New York, he spent 11 seasons at Villarreal CF where he was recognized as one of the top midfielders in La Liga, Spain's top league. Senna has also served as captain of both Villarreal and the Spanish national team. On the international stage, Senna has 28 caps for the Spanish national team. He was an integral part of the Spanish team that won Euro 2008 and was selected to the UEFA Team of the Tournament.
At Villarreal, Senna made over 300 appearances, scoring 29 goals in all competitions for the Yellow Submarines and helped lead the club to promotion back to La Liga in 2013. During his time at Villarreal, the club reached the UEFA Champions League semifinal and also finished second in La Liga.
---