Register your team to compete at the House of Sports in Ardsley.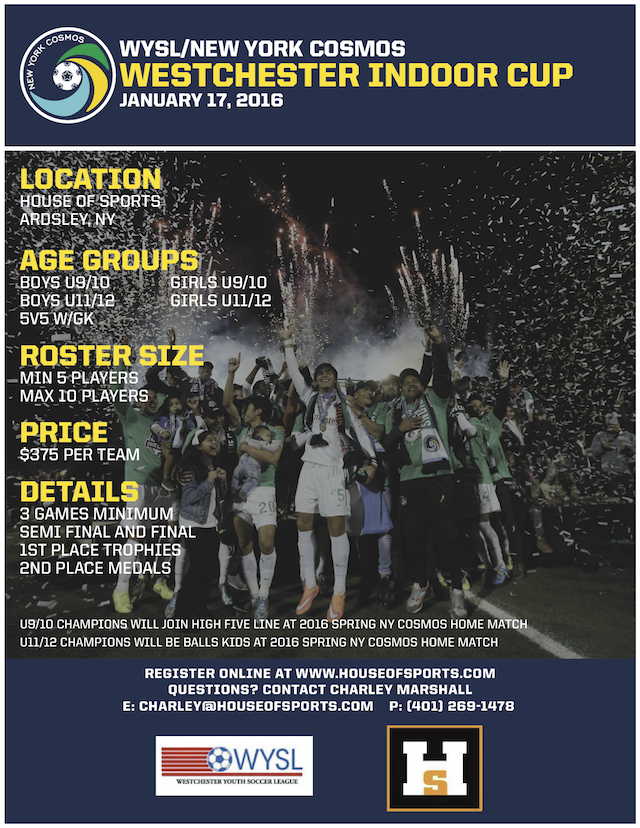 The Westchester Youth Soccer League (WYSL) and New York Cosmos Training and Development Program are working together to bring the Westchester Indoor Cup to the House of Sports in Ardsley, N.Y. on Jan. 17, 2016.
WYSL teams of boys and girls U9/10 and U11/12 are invited to register. Prizes include special experiences at Cosmos home games in their upcoming 2016 Spring Season!
Date: January 17, 2016
Age Groups: Boys U9/10, Girls U9/10, Boys U11/12, Girls U11/12 (WYSL TEAMS ONLY)
Price: $375 per team
Team Details: 10 players max per team
Game Details:
Boys and Girls U9/10: (5v5)
Boys and Girls U11/12: (5v5)
22 minutes total (Two 10-minute halves with two-minute halftime, two minutes between games)
Matches will be played on three fields
Each age group will be split up into groups of four (tentative on number of teams)
Each team will play each other in their group (three guaranteed games)
Top two teams from each group will make playoffs
Playoffs are single elimination
Winners receive prizes (1st place receives trophies, 2nd place receives medals)
U9/10 Champion will join High-Five Line at 2016 Spring NY Cosmos home match
U11/12 Champion will be Ball Kids at 2016 NY Cosmos home match
For additional information, please contact Charley Marshall at charley@houseofsportsny.com.
---