The beginnings of the Club's 'Greatest Goalscorer'.
As we look forward to celebrating Italian Heritage Night on Saturday, October 14 when the Cosmos host FC Edmonton, we look back at the club's Italian heritage and connections, beginning with the single-most influential player to wear the Cosmos shirt, Giorgio Chinaglia. The first 2,000 fans will receive a commemorative Chinaglia t-shirt, and so this week we concern ourselves with memories of the club's greatest goalscorer, the legendary #9.
On October 23, 2014, the Italian American Museum in Little Italy was presented with a jersey donated by the Giorgio Chinaglia Foundation, which is now prominently displayed, visible from the street on the corner of Mulberry and Grand.
Giorgio Chinaglia was born in Carrara, Italy on 24 January 1947. Anarchy and marble. The marble of the Pantheon and Trajan's Column came from the quarries of Carrara. The anarchist stone workers of the late 19th century made the town a hotbed of antiauthoritarianism and revolution, a legacy that remains in Carrara to the present day. Anarchy and marble. Revolution and stone.
As he concedes in his autobiography, "People born as I was in Carrara, a small town in the Tuscany region of Italy, have had the reputation for centuries of saying exactly what's on their minds" (9). Chinaglia moved from Carrara to Cardiff, Wales at the age of 8, following his parents who had emigrated to find work. While the boy was taken out of Carrara it seems that Carrara was never taken out of the boy and an anti-authoritarian streak quickly emerged. "whenever a teacher made a statement that I knew was inaccurate or prejudicial I was quick to let him know I disagreed. […] Looking back at my school days I realize now that I wasn't a bad student at all, just a rebel" (23).
Though pressured there to play rugby, his father insisted he stick with the family game of calcio, and he became a professional with Swansea Town (now Swansea City, also the former club of Cosmos Sporting Director and Head Coach, Giovanni Savarese) in 1964. But his rebellious nature didn't earn him any favors, so after playing just six games, scoring once for the first-team at Swansea, by 1966 he was released on a free transfer. And the story of Chinaglia the footballer could well have ended there. But sent back to Carrara for a week's holiday, his father arranged a trial at nearby Massese, and Chinaglia landed in Serie C, the Italian 3rd division. After a year he transferred to Internapoli, and in Naples a chance meeting changed his life.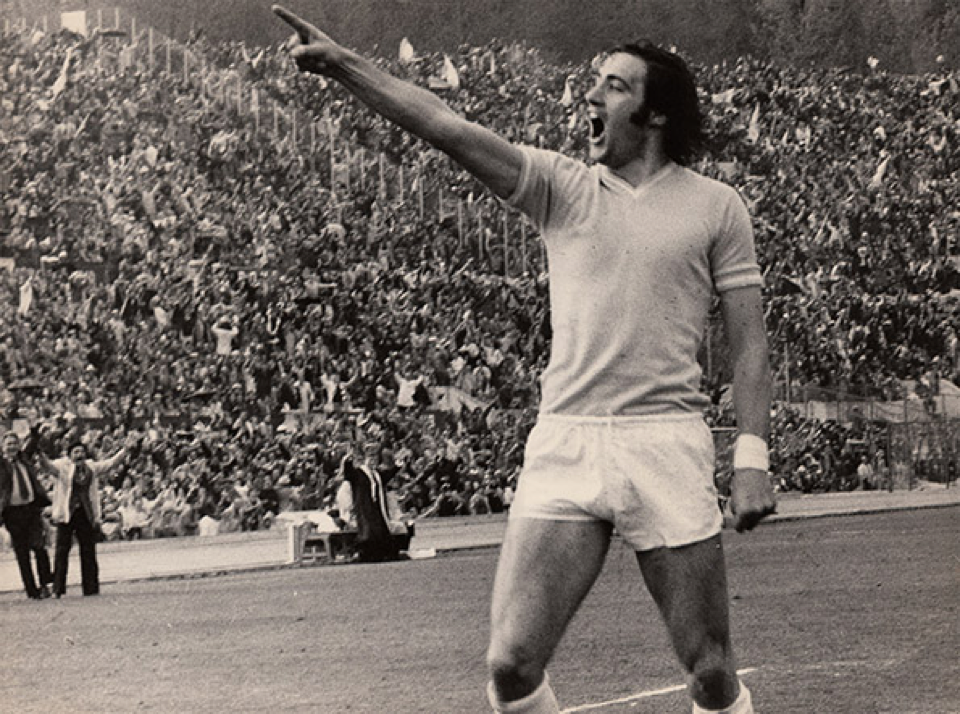 The Boston-born Connie Eruzione (cousin of US ice hockey legend Mike Eruzione) was living with her mother and father, a retired American soldier, in Naples. Within six months of meeting in the summer of 1968, they were engaged and on 9 July 1970, Chinaglia married the glamorous American.
The week after he proposed to Connie, Chinaglia earned a transfer to S.S. Lazio of Serie A; he had arrived at the Big Show, and thus began his rise to international fame. In the summer of 1973, Lazio toured the USA, facing Santos with future teammate Pelé. Lazio allowed the married players' wives to accompany the squad on the tour and Connie Chinaglia realized how much she missed her native land while her husband likewise fell in love with America.
That next season, Chinaglia led the club to its first ever Scudetto in 1973-74. His popularity soared with the Laziale, his fan club reaching 21,000 members, and he even scored a hit pop song with "(I'm) Football Crazy." His legend grew and the word "Chinagliata" was coined to describe something unpredictable and unorthodox, a neologism that in many ways expresses the essence of the enigmatic Giorgio.
His tenure with the Azzurri is more complicated. He represented the country of his birth as a full international fourteen times, scoring eleven goals for the Italian national team, ending his career with the Azzurri at the 1974 World Cup. His infamous reaction to being substituted against Haiti remains the defining moment in Italy's disastrous showing of that World Cup. Having fallen behind 1-0, the Azzuri climbed back to take a 2-1 lead. Choosing to shoot from a tight angle rather than lay off a pass to Francillon for an easy tap-in , Ferruccio Valcareggi pulled Chinaglia off the field immediately in the 70th minute. Chinaglia responded with an arm gesture and words for his coach, and then proceeded to smash water bottles and damage a shower and a hairdryer in the locker room. The incident is referred to as Il Vaffanculo or Le Chinagliate. Shunned by everyone on the national team but his Lazio mates, this might have been his darkest hour: "I felt betrayed and abandoned Nobody understood the psychology of the emigrant, who idealises his country, the flag, the shirt, but who feels isolated and as a result reacts angrily to any sleight he feels he has suffered. I never thought of leaving the team, I just wanted to be alone with my disappointment and my anger."
Meanwhile, his wife's homesickness for America grew, and by the spring of 1975, she purchased a lavish twenty-two room Mediterranean mansion on a three-acre plot in an affluent Bergen County, New Jersey neighborhood. The long-distance relationship wore on Chinaglia, but Lazio refused to sell their star striker to the New York Cosmos. His 98 goals in 209 games for the Biancocelesti from 1969-1976 made him indispensable, but threatening retirement, a year later Lazio relented and sold Chinaglia to the Cosmos.
Part two of "Chinaglia, from Carrara to the Cosmos" will examine the immediate impact Chinaglia had, arriving in New York at the peak of his goalscoring prowess. Part three reflects upon his enduring legacy.

You can secure YOUR tickets to Italian Heritage Night on October 14 here. The first 2,000 fans will receive a FREE Chinaglia T-Shirt.