As we look forward to celebrating Italian Heritage Night on Saturday, October 14 when the Cosmos host FC Edmonton, we look back at the club's Italian heritage and connections, beginning with the single-most influential player to wear the Cosmos shirt, Giorgio Chinaglia. The first 2,000 fans will receive a commemorative Chinaglia t-shirt, and so this week we concern ourselves with memories of the club's greatest goalscorer, the legendary #9.
On October 23, 2014, the Italian American was presented with a jersey donated by the Giorgio Chinaglia Foundation, which is now prominently displayed, visible from the street on the corner of Mulberry and Grand. Part one took a look at Chinaglia's rise to fame and part two began with his arrival in New York and traced his rise to power within the club. Part three reflects upon his enduring legacy.
With 436 goals in 413 appearances for the Cosmos (397 goals in 392 games outdoor and 38 goals in 21 games indoor), it is hard to imagine Chinaglia's tally or rate will ever be equaled, at this club or any other in North America. In Giorgio's time with the Cosmos, the club won four of its six NASL titles ('77, '78, '80 & '82), scoring the winning goal in three of those four winning Soccer Bowls ('77, '78 & '82).
Chinaglia scored an astounding 55% of the goals scored by the Cosmos from 1976-1983. On an attack-minded team stocked with superstars, his lion's share of the goals made him king of the jungle, and he enjoyed (and arguably exploited), tremendous influence behind the scenes at the club.
Upon his retirement from the Cosmos in 1983, he became President of Lazio. But he then tried to pull off a rare double and the next year he assumed principal ownership and the President's role at the Cosmos. Leading two clubs at once must surely be beyond any mortal's scope, and playing the Boss at two clubs on two continents didn't suit the anti-authoritarian Chinaglia. In 1985, the Cosmos suspended operations as a competitive club (along with the NASL), rights reverting back to Warner Communications and passed on to his assistant Pinton, while Lazio fell to Serie B and by that December, Chinaglia sold his interest in Lazio.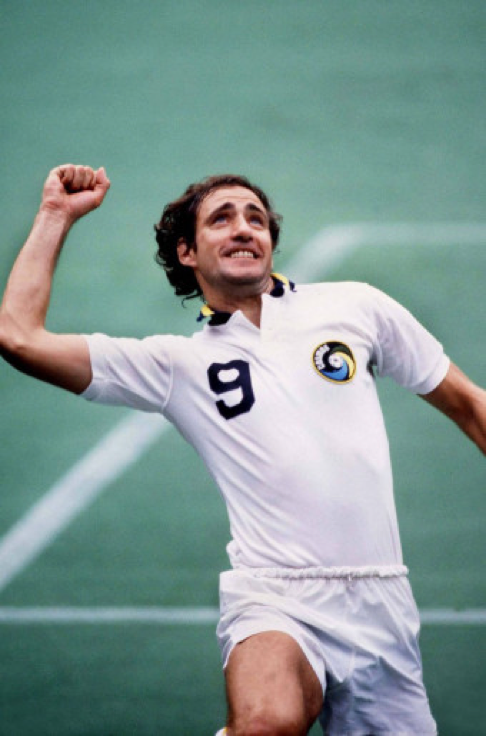 In 2000, for its centerary celebrations, Lazio named Chinaglia the greatest player in the club's history, and he was inducted in the US National Soccer Hall of Fame. Time wouldn't erase the memory of Long John in Italy or America.
Chinaglia reprised the antihero role in Once in a Lifetime, the 2006 documentary on the Cosmos, mocking his critics and enemies with a wink. "If people can't stand me, I don't give a [expletive deleted]," he said, "I'd rather they just judged me by what I did on the pitch." That film reignited interest in the Cosmos, leading to the club's Reboot in 2013, culminating with our sixth NASL championship this past November.
But Giorgio passed away on April 1, 2012 in Naples, Florida. He didn't get the chance to see his beloved club's return to competitive play.
Son George, Jr., daughters Cynthia and Stephanie, and their mother, Constance, gathered September 16, 2013 with friends, former teammates, and throngs of supporters for a funeral Mass at Chiesa del Sacro Cuore di Cristo Re, a short stroll in the district Della Vittoria down the banks of the River Tiber from Stadio Olimpico, where Chinaglia rose to fame.
Chinaglia's grave at Cimitero Flaminio, sure to become a site of pilgrimage, is beside that of Tommaso Maestrelli, the manager who orchestrated the thrilling 1974 Lazio championship side, and was a beloved friend and mentor to the striker until his death in 1976, the year Chinaglia joined the Cosmos.
His coffin draped in the Biancocelesti colors, the profound reverence for Chinaglia in his homeland was demonstrated at Stadio Olimpico the day before and again at the Mass. Mourned in a manner befitting Rome's greatest heroes, Chinaglia has returned to Rome but his legacy will likewise endure in the hearts and minds of New York soccer fans.
The New York Cosmos retired #9 as a tribute to Giorgio Chinaglia in a pregame ceremony on Sunday, June 8th of this year, in Hempstead, NY. The ultimate example of the classic #9 striker, no one was ever more lethal in the penalty area than the man they called "Long John." Pelé is the only other player so honored by the Cosmos, his #10 retired on October 1, 1977. The next night at Scalleto's, the restaurant owned by his friend and teammate Fred Grgurev, a fundraising dinner to launch the Giorgio Chinaglia Foundation (which focuses on delivering soccer instruction for children with special needs) was held.
Reflecting upon his dear friend's memory, teammate Bob Iarusci said:
He was bigger than life. At the Cosmos, he really made the team tick. With all the great players that played in New York, there were things that Giorgio did that probably surpassed all of what everybody else did. When it came down to executing and winning soccer games, scoring big goals, the North American soil has never seen anybody like Giorgio Chinaglia. I can boldly say that. The greatest scorer I've ever seen with my eyes. […] Add to that everything that went with George, and everything that he brought with him, both positive and negative, then you have yourself quite a soap opera. I don't think you could write a script where people would say this really happened. People wouldn't believe it. He was bigger than life.
Another teammate, American midfielder Rick Davis, put it well: "Giorgio was the Godfather. What Giorgio brought was this incredible intensity to every game that he ever played in. To this day, I have yet to meet anyone in any sport that I believe was as fierce a competitor as Giorgio was."
Along with the likes of Marciano and DiMaggio, Giorgio Chinaglia has earned his place in the pantheon of Italian-American sports legends. From Carrara to the Cosmos, his story will be told for generations. The legend of Long John, one of the greatest predatory players and most colorful figures in the history of world football, lives on.