Cosmos Chairman Rocco Commisso's $500 Million Proposal Isn't Good Enough For USSF
Commisso's $500 million proposal was recently declined by U.S. Soccer
Jun 4, 2018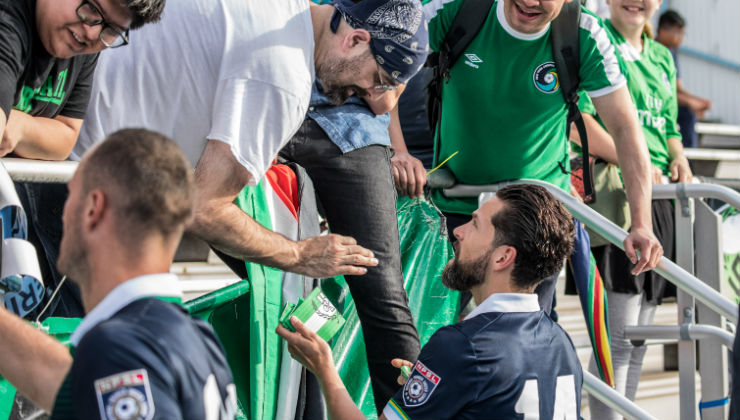 The U.S. Soccer Federation has rejected the $500 million proposal by New York Cosmos owner Rocco B. Commisso to bring back the North American Soccer League for 2019. Commisso, who is also the NASL chairman, was willing to put up $250 million of his own money, plus another $250 million from other sources. The USSF board of directors, however, ruled against a meeting to discuss the proposal in a May 30 letter.
In a response letter to U.S. Soccer stakeholders, Commisso said that the federation board's decision extinguished "any hopes USSF would voluntarily grant NASL a 10-year runway to develop a sustainable independent professional soccer league in the United States and effectively terminating my proposal."
Commisso said he was disappointed about the decision and the process.
"While it is unfortunate that USSF has rejected this historic $500 million proposal that would have created thousands of soccer opportunities for youth, amateur, and professional players and staff while building out critical infrastructure for fans and communities, our fight to grow the game of soccer in America does not end today," he wrote.
Commisso said he attempted to arrange a meeting with new USSF president Carlos Cordeiro for six weeks but was denied. He was disappointed that Cordeiro, "could never find the time to meet with me, in person or by phone," to discuss his proposal.
Commisso also claimed the USSF allowed several "conflicted" board members with current or past ties to Major League Soccer, Soccer United Marketing and United Soccer League to participate in the May 27 board meeting that was held via telephone. That included Major League Soccer commissioner Don Garber, former USSF president Sunil Gulati, North Carolina FC owner Steve Malik and former U.S. international captain Carlos Bocanegra.
"In the end, not even a $500 million offer squarely in line with USSF's stated mission of promoting 'the growth and development of soccer in all its recognized forms in the United States' could break MLS's stranglehold over our federation," Commisso wrote.
The NASL will continue to pursue its antitrust lawsuit against the USSF in Federal Court and its breach of fiduciary duty claim against most of the USSF Board of Directors in New York State.
"I will do everything in my power to seek a timely and positive ruling to help our clubs return to the field in 2019," Commisso wrote.
Commisso's open letter to U.S. Soccer stakeholders can be read
here
.