Saturday's dominating New York Cosmos win against Boston City FC featured contributions from all over the pitch, but one noticeable name missing from the teamsheet was Albanian left back Ansi Agolli, who had started the home opener against New York Athletic Club.
In fact, Agolli was not even in the same hemisphere as the Cosmos. The vetran defender was halfway across the world in Baku, just miles from the site of this year's Europa Leauge Final, being flung in the air by his teammates to celebrate Qarabag FK's sixth consecutive Azerbijan Premier League title.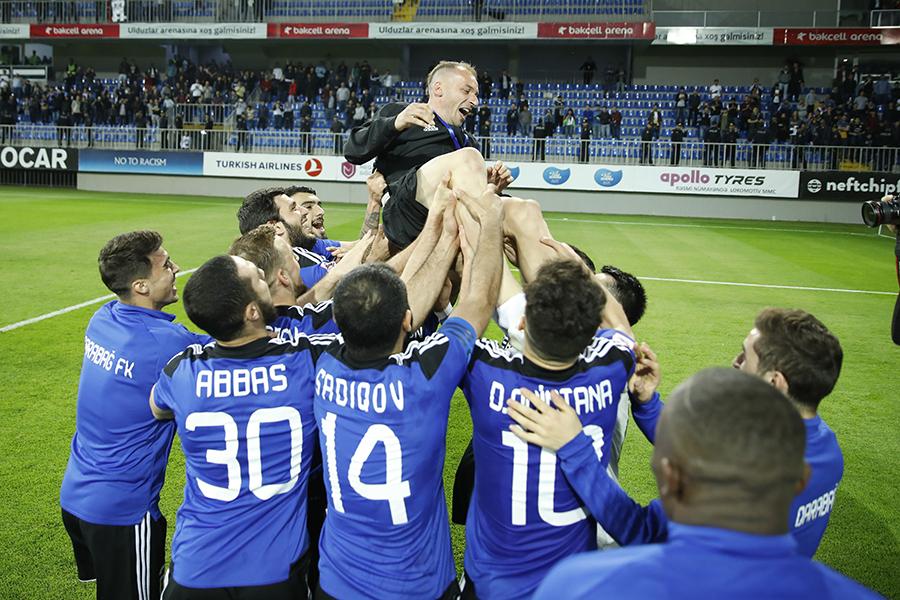 Agolli spent nine seasons in total with Qarabag, earning the most caps of any foreign member of the team and playing a crucial part in the club's recent domestic and international success. Agolli was given a hero's farewell upon his last match for the side in March, but made sure upon his arrival in New York he would fulfil his duty and lift the cup with Qarabag.
"Of course, it was planned, because I played almost 80 percent of the games last year for that club," said Agolli. "I felt internally that I had to do it, so it was good to go back, a lot of good feelings, and now I'm ready for our most important game of the season [here with the Cosmos]."
Agolli got much of the same welcome from Qarabag FK and theri fans as when he left – the supporters' section chanted his name as he and his teammates lifted him in the air in celebration of the win. For the left back, it was a very special moment with a club that he represented for nearly a decade.
"Very big respect," Agolli said. "They let me raise the cup first. I feel very lucky to play for that team that gave me so much in my career. They respect me the same even though I am gone from the team. It meant so much to me. The chants gave me a very, very good feeling."
That respect bleeds over into his new professional adventure as well. Agolli said that his old teammates asked him question after question about his American journey, saying that they follow not only the results but his new teammates and the supporters that cheer them on week in and week out. That vibrant interest from Azerbijan, as well as an emotional and positive weekend, left Agolli with a need to express gratitude.
"I want to say thank you to the club. To Joe Barone, the coaches – to allow me to go there and be part of this moment, because of course I was there and now I am under contract here. I want to thank them very much for this opportunity to go back and do what I have to do – to raise the cup for that club."
Agolli and your New York Cosmos continue their U.S. Open Cup run tomorrow on the road against USL newcomers Hartford Athletic. Kickoff is at 7:30 p.m., and the match can be streamed live on ESPN+.