Former New York Cosmos Ralph Wright, a rough and tumble defender-midfielder who wasn't afraid to make life difficult for the opposition, has passed away.
He was 72.
Wright played one season for the Cosmos, when they called Hofstra University home, in 1973. He helped organize the midfield for the team, which reached the North American Soccer League playoffs.
Former Cosmos forward Joey Fink, a member of that 1973 team, remembered Wright as "very physical" and "very verbal" having played in the lower leagues in England, adding that he "liked beer and a good time ... what Englishman didn't?"
"I remember Ralph as a good, solid pro in the mold of [original Cosmos head coach] Gordon Bradley and a very good guy," Fink said. "He loved America."
Cosmos team historian Dr. David Kilpatrick noted that Wright joined the defending NASL champion Cosmos "that underperformed in 1973, scoring one goal as a hard-hosed [often broken-nosed!] defender in 17 games."
After moving to the Miami Toros, Wright, "was a formidable opponent - marking Pelé, he showed no mercy for the King."
"But even when playing for other NASL teams, once a Cosmos always a Cosmos. Sincere condolences to his family," he added.
Wright had a series of confrontations with Pele during a Cosmos' 1-0 victory in Miami on April 18, 1976.
He had used some bump-and-run tactics against the Brazilian superstar. Pele had enough and led the ball go by him and was sent sprawling with a body check. When Wright got up, he raced to Pele and kicked the legend in the shins.
According to The Miami News, this is what transpired: Every time Wright fouled Pele, the Black Pearl got up, smiled and patted Wright on the head. It happened several more times and Wright wanted to keep knocking down the superstar.
"I said I was gonna whack him" Wright was quoted by the News.
"He said, 'Try it.' "
"I said, 'Stay still.' "
Pele, who set up Dave Clements' winning goal, managed to convince Wright to shake hands.
"The guy who was marking me played a very hard game, but he plays very fair," Pele said through a translator.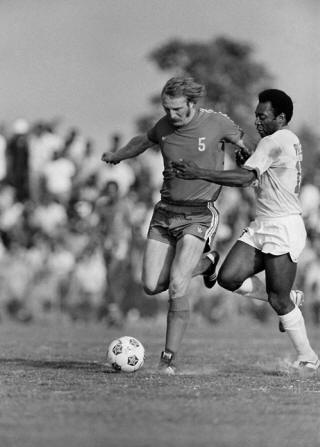 There was little doubt that Wright was a fearless competitor as he broke his nose seven times. He said it was just part of the job.
"This is a rough game, especially in England," he was quoted in the New York Daily News on June 24, 1973. "You can't be concerned with looking pretty. I found it to be a very physical game in the states, too, but in a different way. In America, if you tackle a guy hard, he's liable to turn around and have a swing at you. In England, he'll make sure that the referee isn't looking before he seeks vengeance. Much more professional, you know."
Wright might have been destined to become a soccer player. During that interview he revealed that his first injury as a soccer player came when he crashed into the crib posts while diving for a loose ball.
"I think I learned to kick a soccer ball before I learned to walk," he said.
When he was 24, Wright was intrigued about playing soccer in the United States when he was performing for the Bolton Wanderers and Southport.
"The whole idea of the American experience excited me," he said told the Daily News, "coming over here to help soccer grow in this country, see the United States and make some beer money. Plus, it's a way to stay in shape for the season back home. All in all, it's not a bad deal I'd say."
Wright earned about $150 a week in 1973, (equivalent to $866 today), according to the Daily News.
He scored the first goal of the 1974 NASL championship game for the Toros, connecting off a header in the 17th minute. The game ended at 3-3 in regulation before the Los Angeles Aztecs prevailed in a penalty-kick tie-breaker, 5-3.
A defender-midfielder, Wright began his career in his native England with Norwich City in 1968-69. He also played for Bradford Park Avenue, Hartlepool United and Stockport County.
After returning to his homeland to perform for Southport for the 1973-74 season, Wright came back to Miami before ending his USA sojourn with the Dallas Tornado in 1976.